Different Ways to Temper Food
Home to Europe's largest up-tempering facility, Magnavale has been pioneering innovative up-tempering technology and processes since 2002. With our heritage in food manufacturing, we understand the challenges and requirements of food production, and because of this we have developed a unique portfolio of tempering services to achieve the optimal results for our customers. Using state-of-the-art microwave technology, we can up-temper a wide range of products from -18°c to -3°c in under 60 seconds.
Process known as defrosting, tempering, thawing and up-temping.
Standard Defrost
Standard defrosting is where the product is left to defrost naturally. This is the longest, riskiest way to defrost a product, and it takes far more time to achieve temperatures above 0°C. In most cases, the longer it takes the product to defrost, the more yield you will lose in drip loss.
Rapid Air Up-tempering
Rapid air up-tempering involves placing the pallet into a designated chamber that has forced air circulated through it (Rapid Air). This drastically reduces the time to temper and does so in a more controlled manner. Rapid air up-tempering is still very slow, but, as a standalone service, can deliver high quality results on low density products and ready meals. We also use it as the finishing touch to bring products slowly and carefully across the 0°c line after Microwave up-tempering for chilled dispatch.
Microwave Up-tempering
We have over a decade's experience of microwave up-tempering food products, including all red meats, poultry, fish, butter, soups, vegetables, and party foods. Microwave up-tempering offers a number of key advantages, one being that it produces a completely uniform temperature throughout the pallet, and indeed throughout each individual product, meaning stock is despatched at a consistent and reliable temperature.
Unlike Rapid air tempering, during which drip loss can be as much as 15%, Microwaving is significantly better. Improvement over a rapid air process baseline can be as much as 10% benefit.
If you're interested in up-tempering call 01246 858915 or visit www.magnavale.co.uk/contact/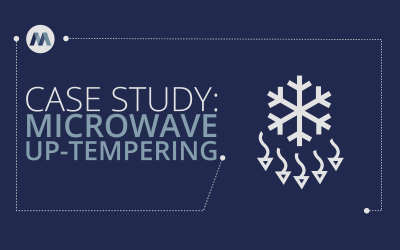 News & ArticlesCase Study: Microwave Up-Tempering Magnavale is home to Europe's largest microwaving up-tempering facility, with two...
Head Office:
Magnavale Ltd, Park Road,
Holmewood Industrial Park,
Chesterfield, S42 5UY