Food Waste Action Week
Food Waste Action Week was introduced last year in order to combat the rising number of food products being wasted each year, and to reach the UN Sustainable goal of halving global food waste by 2030. The bulk of food waste comes from private households, with the average household producing more greenhouse gas each year via food waste than by their car. Although the majority of food waste is coming from residential properties, it is important for companies in the manufacturing industry to continue to reduce the portion of waste created in the supply chain. Several services offered by Magnavale provide greater supply chain flexibility and reduce waste by prolonging shelf life and limiting product losses via drip-loss and other factors.
Blast Freezing
Blast Freezing is the process of pushing cold air at high velocity across a product in order to freeze it down to -18°C extremely quickly, maintaining quality and preserving nutrients. The quicker a product reaches deep freeze temperatures, the more of its useful shelf life remains, therefore decreasing the likelihood of waste.
Microwaving Tempering
This process is used when a frozen product is required to be at chilled or ambient temperatures for dispatch. Compared to traditional thawing processes which are slower and can suffer from a substantial level of drip loss, Microwaving is much quicker, preventing unnecessary losses of shelf life and reducing drip loss.
For example, in several case studies conducted by Magnavale technical staff Microwaving protein products, such as Pork and Beef, has saved between 6% and 15% in yield loss.
Blast Freezing and Microwaving, as well as the other added value services we offer, are just some of the ways manufacturers can deliver a more resilient supply chain and challenge food waste.
If you're interested in Blast Freezing or Microwaving, call 01246 854999 or visit www.magnavale.co.uk/contact/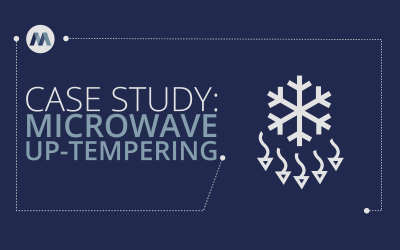 News & ArticlesCase Study: Microwave Up-Tempering Magnavale is home to Europe's largest microwaving up-tempering facility, with two...
Head Office:
Magnavale Ltd, Park Road,
Holmewood Industrial Park,
Chesterfield, S42 5UY