How Food Products are Segregated in Cold Storage
At Magnavale, we store a large variety of products, including proteins like red meat and poultry, plant-based products, bakery, dairy, and a variety of other goods.
The majority of the products we handle are always sealed and packed prior to receipt, therefore posing no cross-contamination risk, however, there are certain situations where segregation measures are put into place.
We are fully licensed for export to Europe, The USA, Hong Kong, South Korea, Australia and one of only a handful of cold stores in the UK with Chinese export approval, therefore products intended to be exported to third countries are segregated by species and by their country of destination.
Our organic products need to be segregated in dedicated organic storage areas in order to keep their organic status. In 2021 we also announced, after extensive consultations with our partners, to become the first cold store network in the UK to offer segregated, temperature-controlled, storage solutions specifically for plant-based foods on request.
Lastly, products are also segregated within our up-tempering rooms. Pallets are segregated by species during the defrosting time to avoid any risk of DNA cross-contamination. Although the products are sealed and packed, due to the defrosting process, there is a small chance the drip loss produced could contaminate the adjacent pallets within the same racks, therefore we make sure products are segregated by species so cross-contamination doesn't occur.
If you're interested in up-tempering, blast freezing or storage solutions call 01246 854999 or click 'Make an Enquiry' below.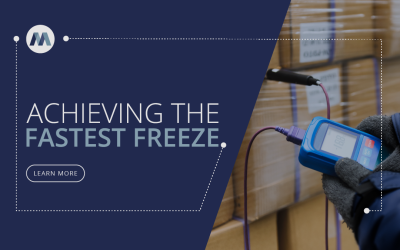 News & ArticlesBlast Freezing Vs Chamber Freezing With 30 years experience within the industry, Magnavale has developed a reputation...
Head Office:
Magnavale Ltd, Park Road,
Holmewood Industrial Park,
Chesterfield, S42 5UY