Rick Bestwick Announce New Automated Date Coding Line
February 11, 2019
Rick Bestwick can now offer its customers a fully automated date-coding solution, making the process of applying sell-by and use-by dates to products easier, faster, more hygienic and reducing the cost risk posed by variations in the price and availability of labour.
Advantages of the new system;
Significantly reduced handling, promoting superior hygiene and reducing the chance of human error and damage.
The fully automated system ensures changes in the labour market won't affect your price.
Packaging options can be extremely varied as the new equipment will print effectively on almost any substrate.
Speed of dispatch is greatly increased as the automated coding line can process stock at a much higher rate than traditional manual handling.
Print placement and clarity is far superior to traditional methods, achieving a consistent code print on every product.
Andrew Lawrence, Site Director of Rick Bestwick Chesterfield, commented, "We're very pleased with the new date-coding line, not only are results better for the customer's product but the staff we've been able to redeploy are improving our services in other areas too."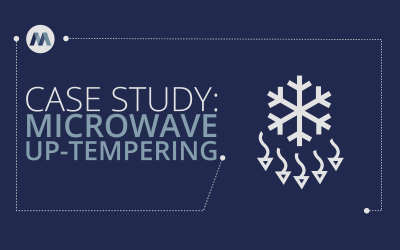 News & ArticlesCase Study: Microwave Up-Tempering Magnavale is home to Europe's largest microwaving up-tempering facility, with two...
Head Office:
Magnavale Ltd, Park Road,
Holmewood Industrial Park,
Chesterfield, S42 5UY
enquiries@magnavale.co.uk