Industry Update – Cold Storage for Brexit
In the last week we've had two important votes, the first on Theresa May's exit deal and the second on Theresa May herself. However, those of us hoping there would now be a clear path forward are sorely disappointed. Nothing has been decided and nothing is in place as we approach the 29th March, so the best we in the food industry can do is focus on the outcomes that seem more likely given recent events. It's a situational analysis exercise I've gotten used to doing every time there's a Brexit story in the news. What is now the likely outcome, how will this affect us, and our customers? So how does it look right now?
There are roughly 6 options currently and I've listed them below from least (1) to most likely (6);
1) Renegotiate (Before 29th March)
It's within the realm of possibility that May could renegotiate her deal and manage to get it through the commons in time, but the chances of this are exceedingly slim. Brussels has said that they will assist but will not renegotiate and given the scale of the deal's defeat in the commons it would be nearly impossible for May to get the kind of concessions needed to turn that tide.
2) Vote of no confidence
Theresa May could be challenged again if she fails to produce a Plan B over the next few weeks, particularly since she won the previous vote on the back of only a 19-vote majority.
3) General Election
May could hold a general election, in an attempt to grow her majority to more easily pass a deal but this seems unlikely given the precarious hold on power her government has. The loss of even a few seats could well oust her power.
4) No-Deal
There is support among some MPs and a proportion of the general public for a no deal scenario (despite potentially disastrous consequences) but this isn't likely given its level of support and could even be ruled out within the next few days if Jeremy Corbyn gets his way.
5) Referendum
If May cannot get any traction in parliament or consensus among decision makers for what they actually want out of a Brexit deal it may be the case that the decision is handed back to the people to provide a clear mandate for those in power. However, by their nature referendums provide simple answers to difficult questions and a YES/NO decision may force the government into either cancelling Brexit (A sure-fire way to lose the next election) or leaving without a deal (A sure-fire way to cause economic turmoil).
6) Delay Tactics
The most frustrating for those trying to plan ahead but the most likely at the moment is that May's Plan B will be to push the withdrawal date forward and try to renegotiate in order to arrive at a soft Brexit scenario, often referred to as a Norway style arrangement.  
With so much uncertainty in the market it's been a pleasure to see the level of clear-headed planning coming from the food industry, nearly all our customers have begun enacting their Brexit plans in the run up to the 29th. Increasing stockholding, importing and storing all the ingredient materials they require from Europe, finding the easiest and fastest way to relabel existing stock to meet any new export requirements and the list goes on.    
These are somewhat unprecedented times, but we're delighted to have been able to support our customers in the execution of their Brexit plans so far and whether it's info updates like this one, or helping to maintain fully stacked shelves we're pleased to offer a Storage and Export service that our partners can rely on.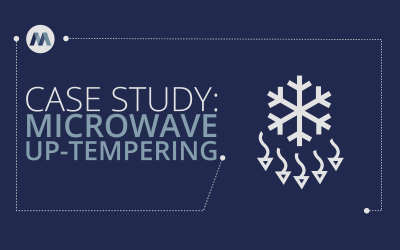 News & ArticlesCase Study: Microwave Up-Tempering Magnavale is home to Europe's largest microwaving up-tempering facility, with two...
Head Office:
Magnavale Ltd, Park Road,
Holmewood Industrial Park,
Chesterfield, S42 5UY